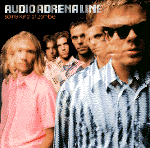 Chevette - New Body - Some Kind of Zombie - Original Species - People Like Me -
Blitz - Lighthouse - Flicker - God-Shaped Hole - Superfriend


twenty years ago I watched in awe
as my dad drove up the driveway
more that proud to have a brand new family car
thirty miles to the gallon, 0 to 60, sometimes
I remember putting down the back seat
and lying in the hatchback.
looking at the sky watching trees go by.
I was the son of a preacher, and he was a rich poor man

no a.c.
no fm
and no regrets,
in my chevette.

the winter cracked the highway
and we tried to dodge the potholes.
he never promised us it would be a gentle ride.
he never had a problem though,
keeping it on the narrow road.

words and music by Bob Herdman, Will McGinniss, Mark Stuart & Brian McSweeny
copyright 1997 Up In the Mix Music



never been accused, or be confused
with a model on a cover page.
never could've been a superstar in the NBA
can't run that fast,
never could break dance,
can't jump a building in a single bound.
anticipate, can't wait till I hear that sound

the sky splits, I'm moving, I let it freely take me,
this must be, the moment, God picked to rearrange me,

You and I, want a new body.
You and I, want to fly

crutches left upon the ground,
bodyparts lost and found,
everybody gets to walk today.
no more tears and we will feel no pain

the sky splits, I'm moving, I let it freely take me,
this must be, the moment, God picked to rearrange me,

You and I, want a new body.
You and I, want to fly
You and I, can get a new body
You and I, will never, never die

never gonna die
I'm gonna fly
never gonna die
I'm gonna fly

You and I, want a new body.
You and I, want to fly
You and I, can get a new body
You and I, will never, never die

words and music by Bob Herdman, Will McGinniss, Mark Stuart, Carlos Pennell & Brian Kotzur
copyright 1997 Up In the Mix Music / No Shoes, No Shirt, No Music (BMI)


I must have been confused or vain
To let this evil in my brain
Lord did I enjoy the change
That you have made inside my heart
Oh here they come
But I'm not afraid
There's no temptation I can't evade
Stand up straight
Look through the haze
I begin to walk through the maze
Here they come
They're all up on me
But I'm dead to sin like
Some kind of zombie
I hear you speak and I obey
Some kind of zombie
I walked away from the grave
Some kind of zombie
I will never be afraid
Some kind of zombie
I gave my life away
I'm obliged and obey
I'm enslaved to what you say

words and music by Bob Herdman, Will McGinniss, Mark Stuart & Barry Blair
copyright 1997 Up In the Mix Music / No Shoes, No Shirt, No Music
Now my heart and mind agree
A super natural selected me
I see a plan so grandiose
My very own Galapagos
God laid down and he began to trace
And image that he could embrace
Then he smiled down upon his plan
And from the dust he made a man

I'm an original species
More enlightened than Nietzche
I'm sure you'd like to meet me
I am loved

By the Maker who's so clever
I was made to live forever
Though my body turns to sand
My soul is in His hands

A breakthrough theory of origin
A simple truth that's always been
Fingerprints have been left behind
That points us to a master mind
Stars in the sky
There to please my eye
The cosmos in His command
But He has time to hold my hand

words and music by Bob Herdman, Will McGinniss, Mark Stuart
copyright 1997 Up In the Mix Music
Bouncing like a baby drifting on the water
Singletary solitude man begins to holler
He says, "Man overboard"
I jump ship on the trip it was a worldwide cruise
Trading riches for some fishes I've got nothing more to lose
I'm a man overboard
I'm a man overboard

Chorus:
If it wasn't for the lighthouse where would my life be
On a ship bound for nowhere on an unforgiving sea
I thank God for the light

Legs and arms are burning swim against the tide
Keep an eye above the water so I can see the light
I'm a man overboard
I dream about the Savior I dream about the shore
I feel the sand You take my hand
And we will walk forevermore
I'm a man overboard
I'm a man overboard

[Chorus 3x]

words and music by Bob Herdman, Will McGinniss, Mark Stuart
copyright 1997 Up In the Mix Music
Have I become, a target that some people can't resist
My flaws have become a greater risk
If my name is a synonym to love and happiness
Then why am I bombarded with distress
My old friends, haven't seen them since I don't know when
But I can't send them a signed 8 by 10
My sweetheart, she understands why I'm away
But it still gets harder everyday

But it's my delight, to sing all night till the sun comes up again

After all my cross isn't hard to bear
It is heavy, I am weak, but You are there
There are all the times when I am down and feel undone
You pursue me like I am Your only son
My old flaws You've overlooked and put to rest
They're farther than the east is from the west

But it's my delight, to sing all night till the sun comes up again
Yes, it's my delight, to share a flicker of Your light
Just a ray of hope to a friend

I've spent 24 hours in a Flying J truck stop
I haven't had a shower and 'bout to drop
It really doesn't matter if we make it or not

words and music by Bob Herdman, Will McGinniss, Mark Stuart
copyright 1997 Up In the Mix Music

All around the world people are trying
Deserted souls cry to be filled
Spirits left undone their hearts are hollow
I can see, in their eyes, hollow lives

And every heart, and every soul, and everybody's got a God shaped hole

You may have tried to fill that hole inside
With an empty hand you reached in vain
Substitutes don't work, bandages only hurt
The only thing that heals is the hand of God

Nobody's meant to be left all alone
Our lives are much to short, to have an empty soul

words and music by Bob Herdman, Will McGinniss, Mark Stuart
copyright 1997 Up In the Mix Music

You're like a lonely statue
The wind and rain comes at you
You'll stand and take your chances
Against the worlds advances
You rely on a flimsy virtue
No man can stand alone

Does it offend you that I got a friend who
Knows what you've been through and says that He loves you

I want to sing His name of how He became
Jesus a friend of mine

How long will you be posin' how long can you stay frozen
You'll crumble from the inside you pride will be your demise
Won't you let someone help you everybody needs a friend

words and music by Bob Herdman, Will McGinniss, Mark Stuart
Copyright 1997 Up In the Mix Music
---